Order form
Use the unique opportunity to become owner of a limited medal´s edition
POPES IN HISTORY
Order this unique collector´s edition Popes in history. Each set offers seven noble medals depicting portraits of Roman pontiffs reaching from Saint Peter to the current Pope Francis. From the overall 266 popes the history knows, the edition focuses on depicting 134 popes. The "Popes in history" edition in this range is a unique work in the world
The author of the medals is Ľudmila Cvengrošová and the medals are produced by The Mint of Mincovňa Kremnica in three versions – golden, silver and tombac.
Choose all the sets you want to order first, then click Order.
Price of delivery will be added to total amount of the order.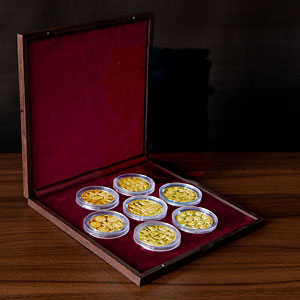 Price:   On demand *
* the price may change based on current price of gold 
Description:
Metal :
 
Au 986/100
Pcs:
 
7 bothsided medals
Size :
 
60 mm
Quality :
 
proof
Weight / 1 pcs :
 
170 g
Mintage:
 
1000 sets
Package :
 
PVC capsules + wooden box, catalogue, certificate
 
Order :
 

pieces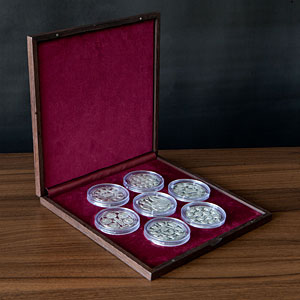 Price: 2.100 EUR incl. VAT
Description:
Metal :
 
Ag 925/100
Pcs :
 
7 bothsided medals
Size :
 
60 mm
Quality :
 
proof
Weight / 1 pcs:
 
100 g
Mintage:
 
10 000 sets
Package :
 
PVC capsules + wooden box, catalogue, certificate
 
Order :
 

 pieces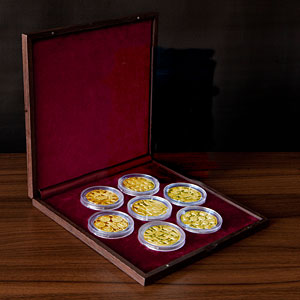 Cena: 350 EUR incl. VAT
Description:
Metal :
 
Ms 90
Pcs :
 
7 bothsided medals
Size :
 
60 mm
Quality :
 
golded proof
Weight / 1 pcs :
 
96 g
Mintage:
 
not limited
Package :
 
PVC capsules + wooden box, catalogue
 
Order :
 

 pieces
Price: 19,90 EUR incl. VAT
Description:
No. of pages :
 
366 pages
Language :
 
7 languages – Slovak, English, German,
French, Spanish, Italian, Polish
ISBN :
 
9788097180201
Year of publication :
 
2014
 
Order :
 

 pieces